/

Comments Off

on Just Back From "Creative Reboot" in Santa Fe

/

by joanstaffen

/

Filed in: Blog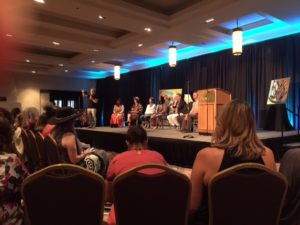 Last Meeting at "Creative Reboot!" Julia Cameron is second from the right.
For me the "Creative Reboot" Conference in Santa Fe was just the big boost I needed for my writing, art, and creative life I needed. I've been teaching Julia Cameron's "The Artist Way" plus some of her other books for over fifteen years now. Julia was going to teach and I could finally thank her for all that she has done for me over the years.
Sometimes I haven't wanted to meet my mentors that I've met through books. Books can be so personal as people do tell their secrets and stories as Julia has done over the years. But finally I was sitting in her class. I was privilege to be a staff volunteer, so I let me know if she needed anything I was available.
I participated in the class exercises, and found out I wanted to PAINT again. And I would love a painting studio, but really what is necessary is that I pull out my Golden Paints and put brush to canvas.
At the end of the conference I ran up to the stage to give Julia a last hug. Again, thank you Julia Cameron for sharing so much with us!
I met two hundred people at the "Creative Reboot" Conference that like me follow the "Artist Way," write daily morning pages, go on weekly "Artist Dates," and have had their lives transformed. I came home to my two Artist Way groups to share all that I had learned. And this weekend for the first time in a long time I painted! It felt so good to put brush to canvas.