The Dream of The Fisherman and Pascedero
I had a dream last night that I was on a fishing boat pulling in nets with a team. I was thinking — oh my God, this is real work. I complained to a fellow fisherman and he said, "This is nothing." Then he showed me his hands which were huge, chewed up, and a calloused.
I decided to drive up the coast. I was going to stop in Davenport for coffee, but it had a big tour bus in the little town, so I decided to go further to  Pescadero. As I was driving I realized with my limited Spanish had something to do with fish. I looked it up later — Percadero is Spanish for "fisherman."
I believe that if you honor your dream by following a trail, that you will be given more dreams and guidance. What was I to find in this little town? I walked around and found cool coffee house complete with antiques from my childhood and Peter Fonda in the Easy Rider movie poster behind the wood burning stove.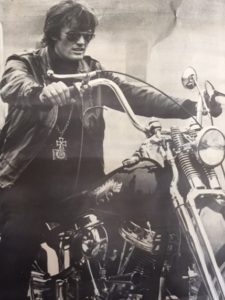 Hum. What does it all mean? Fishermen always remind me of the miracle of Jesus walking on water and saying, "Take courage! It is I. Don't be afraid."
But I have to tell you this was a robust, down to earth fisherman in my dream. It felt like a movie, so vivid and real. An authentic man telling me to roll up my sleeves and get to work.
But here I am drinking a delicious cappuccino at the coffeehouse "Downtown Local."  I am still pondering the dream and Pescadero. Keep on riding and writing, and be not afraid.