/

Comments Off

on Knock, Knock, Knock on Heaven's Door

/

by joanstaffen

/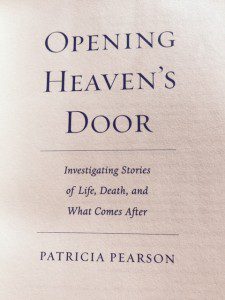 I loved this book. Patricia Pearson is not only a eloquent writer, but she weaves her personal story with detailed stories of others. Concurrently, she reports on scientific research about people's moment of death and near death experiences.
I loved the story of her sister, Katharine. She tells the story of her life and her vulnerable, sad time with cancer. Patricia, after her sister's death, "wanted to understand what we knew, and what remained unclear, scientifically elusive, about these controversial modes of awareness. …Why did she enter into her own dying experience afraid at first – only to become increasingly joyful? What was she seeing, what was she learning, what would she have told me if she could have, after she could no longer converse. What I learned in the ensuing few years was far richer and more mysterious than I ever imagined, and by sharing it with you, I am hoping that I will open a door."
I am fascinated by these stories because in my psychic hearings with people, often deceased loved ones psychically show up. I can hear them, and in my mind's eye, see them. I am honored to meet these souls and transmit messages to and from loved ones.
Opening Heaven's Door could help those who are facing their loved ones or their own illness or death. It lessoned the fear of death for me.  She sums up her works by saying, "When the dying leave us, it's like a footprint in the sand that needs to be filled in. Where the water rushes in, where love rushes in." Such a wise and profound book!