Meet Your Angels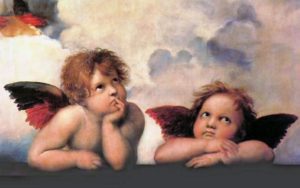 As this is a devastating day for Southern California, its college students, and all of us, I thought it would be good to post about the angels from my book The Book of Pendulum Healing.
The angels helped me, sometimes carried me, through the most difficult, painful times in my life, and they can help you too. My children are grown now, but I still ask that the angels of light and love always to surround and protect them, and then I ask them to hold me in their arms too. Angels  can bring solace even when nothing makes sense and so many have been harmed.
Here is a short passage about my class, what we learn, and how you too can develop a deeper relationship with your guardian angels and the angels of light and love.
Connecting with Your Angels
I teach a class titled "Sacred Meetings with Your Angels" during the end-of-year holidays to give people a chance during the Holy Days to meet and learn more about their angels. I also teach a four-week class based on the book Ask Your Angels by Alma Daniel, Timothy Wyllie, and Andrew Ramer.I truly love it because in my class my clients do have a personal experience of their guardian angels. They learn the name of their angel, discover how they could communicate more effectively with their angels, and receive a personal message. During the month we all seem to get closer to our angels.
Teaching the class allows me to receive a healing and confirmation because the stories are always so individual. One woman, who is feisty and colorful, has an angel named Zip. She is going through a healing challenge, and Zip is always lightening her up. Another woman's angel's name was surprising—Joe. A widow, she said that she never feels lonely because she feels Joe and her late husband with her.
We have fun with the exercises from the Ask Your Angels book—which I highly recommend. You can do the exercises at your own pace or form a small group and do them together. There is true power in spiritual groups.
Here is a shortened process that, if followed, will enable you to meet and greet your angels:
First, you need to clear any blocks that you might have regarding a belief in angels. You can make a list of any beliefs that might be standing in the way of your having an experience with them. Many people have thoughts such as "Angels are not real, or only children believe in angels." "I'm scared. What if they are real?" or "Who am I to be helped by angels?" Once you have the thoughts down, crumple your paper, throw it away or burn it (safely), and then clear yourself with the pendulum. Next, write all the reasons why you'd like to connect with your angels. Keep that list and put it in a special place for prayers such as a prayer box.
The second step is to meet your guardian angel. Yes, we all have one. Guardian angels watch over us from before our birth, through our life, and take our soul home to God/Goddess. It doesn't matter whether we see ourselves as an atheist or what our religion is, our guardian angel has been with us our whole life. Wouldn't it be wonderful to meet this most helpful light being?
You can use a centering meditation and after, when you feel at peace, ask to meet and talk to your angel. You can visualize your guardian angel (using your imagination) in your mind's eye. See yourself shaking hands (if you feel more formal) or receiving a hug. Take some time to feel the absolute love of God/Goddess that streams through the angels to you.
You can then ask your angel's name and if they have a message for you. You might pick up your pen and journal and let the message flow naturally. For some, it might take a little while. You can continue meeting with your angels, and one day, you will know their names and be able to hear their messages. It's such a reassuring feeling to be able to communicate directly with the angels.